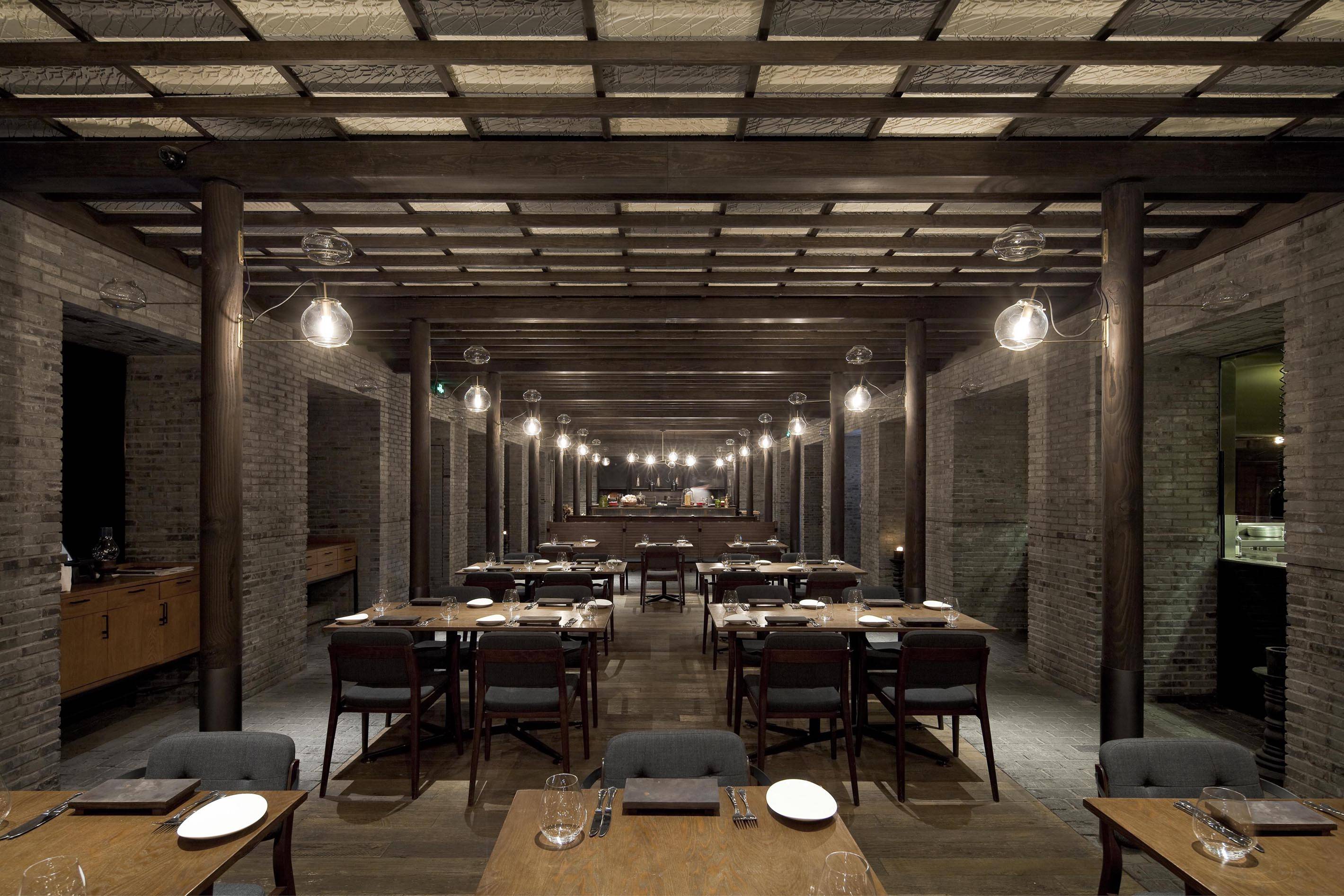 Located on the historic Bund of Shanghai, Capo is a modern Italian restaurant in the attic of a building dating back to 1911. Designed by Neri&Hu, the intent was to embody the spirit of the Basilica, an architectural typology of a bygone era which was a bustling public space serving a multitude of functions.
Neri&Hu chose to divide the restaurant into a series of distinct rooms, capturing spaces as vignettes, whilst maintaining a consistent vision through materiality and spatial sequencing. The central spine of the restaurant is a long and linear main dining hall with tables and chairs aligned in a pew-like formation, with the Crudo Bar and pizza oven as bookends to the space. Wood and bronze accents bring hints of warmth and refinement to the rustic grey brick backdrop, while hand-blown glass lights and leather strap details on the chairs suggest craft and intimacy. Above head, relief moulded plaster ceiling tiles, evoking traditional ceiling frescos, brighten the space and guide the eye upwards.
Through the colonnade on either side of the main hall, a series of smaller chapel-like spaces branch off, containing the reception, wine and cigar lounge, kitchen, outdoor deck and private dining rooms. Passing through dark and heavy thresholds, one discovers these unique rooms, each featuring original reinterpretations of classic Renaissance paintings on the walls, from Caravaggio to Titian. The chiaroscuro of the painted brushstroke finds resonance in the contrast of spatial experiences, from a narrow hallway clad only in brick to a high-domed niche smoothed with white plaster. The drama of the spatial journey is rivalled only by the spectacle of the chefs preparing the food itself, as glimpsed through various framed views of the show kitchen.
Capo Dining Armchair, originally designed for this restaurant, features throughout.
Photo credit: Pedro Pegenaute